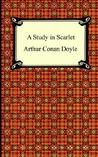 A Study in Scarlet by Arthur Conan Doyle
My rating: 5 of 5 stars
The thing that really intrigued me was how fresh this book felt despite being written such a long time ago. Although on slight instances, we do get some context heavy writing. But that only served the purpose of making the process of reading more beautiful. Instead of dreary.
Need I say how much I love Sherlock? He is brilliant, smart, confident. And he knows all that about himself. Most importantly, he knows how much of a genius he is. Which makes him all the more cocky. And just the more likable.
Some of his reaction, e.g being down for lack of crime in London– are adorable and hilarious. Dr.Watson's seemingly static character made the story more interesting, since he was the narrator and it was shown in a way that made me feel like he is too busy taking everything in. Instead of trying to help in the case. Masterfully done, his character was interesting in it's own way.
I just fell in love with this beloved classic, and I am sure I will devour every piece written by Doyle from now on.