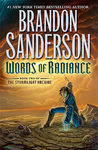 Words of Radiance by Brandon Sanderson
My rating: 5 of 5 stars
Expectation. That is the true soul of art. If you can give a man more than he expects, then he will laud you his entire life. If you can create an air of anticipation and feed it properly, you will succeed.
"Conversely, if you gain a reputation for being too good, too skilled… beware. The better art will be in their heads, and if you give them an ounce less than they imagined, suddenly you have failed. Suddenly you are useless.
And how does he manage to always outdo himself? That is the question…
So much perfection is such a huge book. When reading the first book in the series, I was convinced that even Sanderson can't outdo himself now, but he proved otherwise. The book had the Sanderson waterfall effect, the buildup was slow with an epic and breathtaking climax, but as is always the case with my experience in Cosmere books, I enjoyed the journey way too much to even bother about the destination. Yep, a Cosmere fan pun, I managed to crack it. As in; Journey before destination. Ring a bell? No?
Let's just move forward with the review then.
This book, as promised, focused on another character's arc than the first book. This time it was Shallan's. But that didn't mean that Kaladin didn't get his own arc again in this book. And what an arc it was.
The characterization in this book was as top-notch as always. Shallan, Kaladin, Adolin, Dalinar, and even other side characters got attention as much was due to them. Each character had to battle their own demons, find their places in the new truth that had been established for them. I really liked the sprens and their character in this book too. Syl is always a fan-favorite, but I think Pattern deserves more love and attention than he is getting from the whole fandom.
Also, there is this thing I really wanted to mention. The last book, the first one in the series, had started with a lot of characters facing really big obstacles. The biggest one must be their loneliness. But by the end of the first book, that part had gotten some closure. Characters had developed relationships, albeit strange as they were. This book had a lot of darkness and action to its credit, but I realized again and again that the fact that these characters had started interacting made it so ripe for humor, and Sanderson used it to its full advantage. There were a lot of moments where I found myself chuckling thanks to these characters. Already so close to me as good friends.
The finale was epic, but the epilogue settled so much of the world-building, promising so many more things yet to come. It makes me want to dive back into the Cosmere books right away. The proportions in which this world is expanding is jaw-dropping.
Overall, I gave this book a full set of stars and really would recommend any passerby and her dog to read this book.